Handbook
Light of the World Religious Education
Registration and Handbook 2017 – 2018
Class Times:  Grades K-6 Wed. 3:10-4:30
Grades 7-12 Wed. 7:15-8:30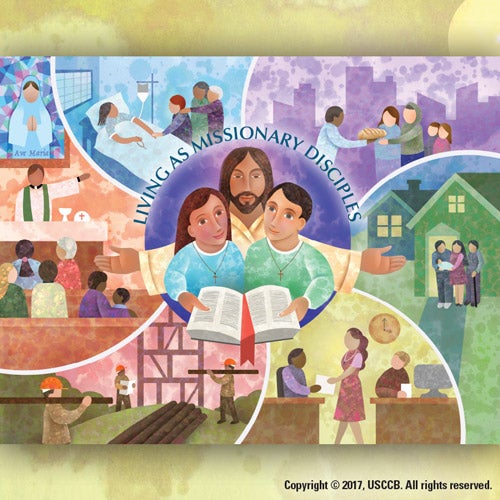 "In doing so, you are accepting the responsibility of training him/her in the practice of faith"
These words are what all parents promise when their child is baptized. Parents are the first and foremost important teachers in their children's lives.  If the Catholic faith is not practiced and reinforced in the homes, all that is taught in religion classes will mean little.
Please take time to read through the handbook. Also, read the information under the Safe Environment tab.
Director of Religious Education - Sherry Plaetz e-mail address:  splaetz@wabassostannesschool.com
Tuition
Tuition payments help cover the cost of materials and class supplies. Turn your tuition in with a filled out Registration Form. Please make tuition a high priority and an important investment in your child's faith development. Tuition will not be charged to children whose parents teach religious education a full year.
Schedule
Wednesday     7:15 – 8:30      grades 7-12
Wednesday     3:10 – 4:30      grades 1-6
Attendance
Attendance is taken for each class period.  Absence will be checked with parents.  If you know your child will be absent, please call Sherry Plaetz @ 342-5474.
Discipline
  Because of the need of everyone's cooperation in implementing a religious education program, problems of discipline will not be tolerated.  We only have one hour a week for formal RE class and we cannot spend half of that time getting classes settled in.  It is the policy of this RE program when any student/s is disruptive and preventing the teacher from teaching or the other students from learning, they will be verbally warned.  If their disruptive behavior continues, they will be asked to stay after class and complete the work they should have been doing in class.  Parents will be made aware of this action after the fact.  If for some reason the disruptive behavior continues, that student will be asked to leave the class, go to the office and call their parents to come and pick them up immediately.  They may return to class the next week provided they have apologized to the teacher and are ready to be cooperative in class.  Should it happen that disruptive behavior continues, a student may be asked to leave the program.  The parent would then take over their child's formal religious education.